Sixty-one automobiles meandered along scenic byways of Washington County, Maryland on Saturday, June 8, 2013 as the 24th annual Orphan Car Tour took to the road. Cars lined up at the Community Center and cars during pre-tour preparations. (J. Hayes and P. Pandolfi photos).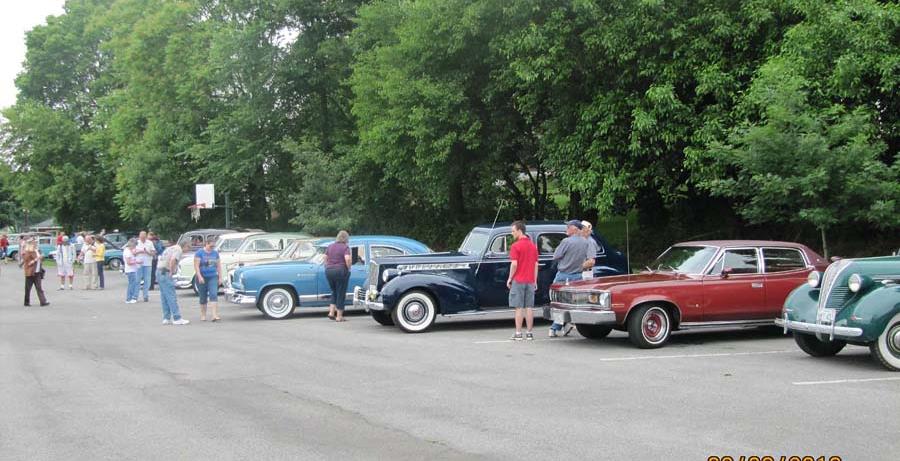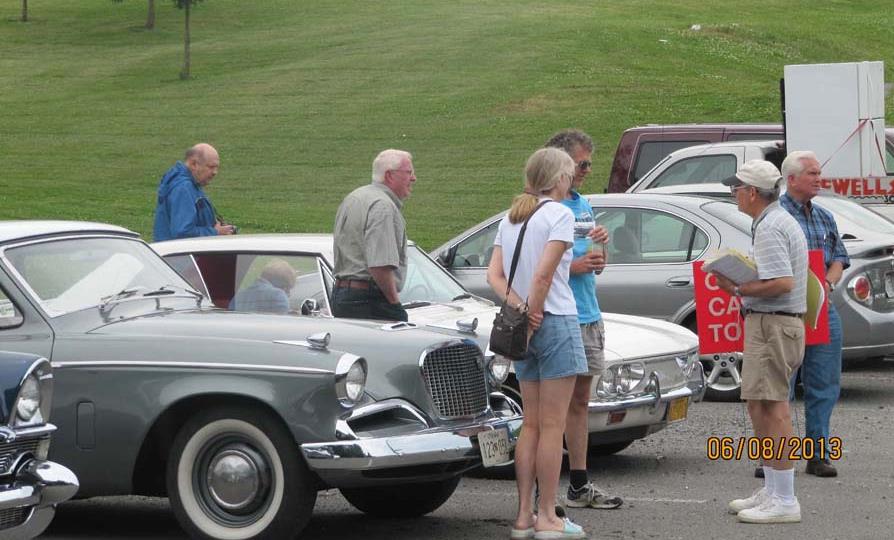 .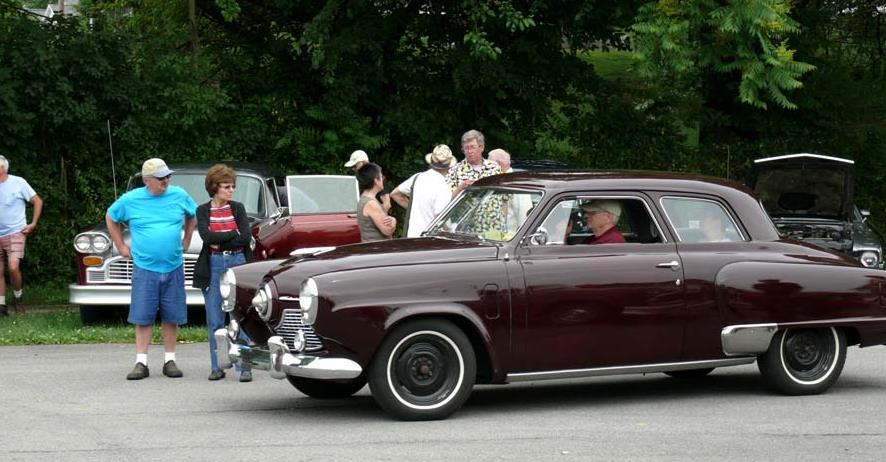 Ed Wanda and Sarah Wenger in their 51' Studebaker Champion (K. Jewell)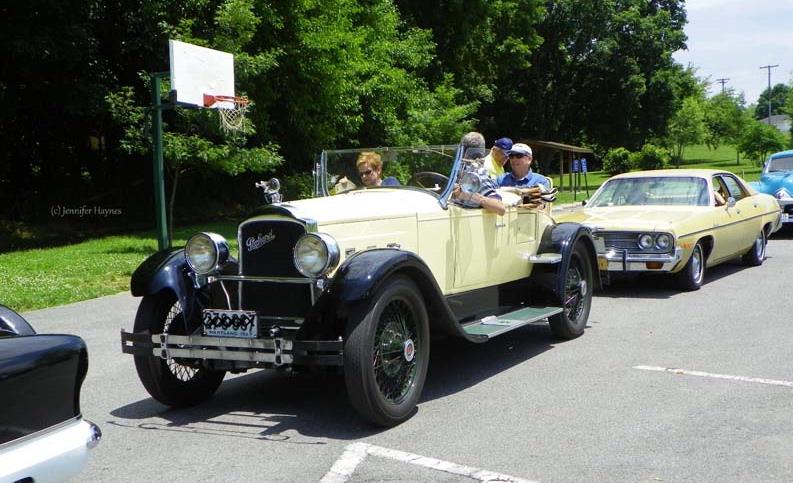 Phil Mills in his wonderfully clean and neat 27' Packard Roadster (J. Haynes).


Dubbed "The Williamsport Wanderlust", this year's tour started and ended at Byron Memorial Park in Williamsport, just outside Hagerstown. The weather was perfect: sunny skies and temperatures in the mid-seventies, making for a delightful day of cruising for the 127 drivers and their passengers. It was a welcome change from the two days of rain that preceded it, as Hurricane Andrea moved up the East Coast.

Cars embarked onto the tour one by one, beginning at 12:15 P.M., as each driver was given printed direction sheets. The 40-mile route was laid out in a loop, and each car traveled in an opposite direction around the loop from the car before it. Drivers made stops at five interest points along the way.

Among these were the Williamsport Visitors Center of the C & O Canal, Fort Frederick Park (containing a historic stone fort from the French and Indian Wars), Wilson's Store (an authentic 19th century country store), Four Locks (a series of four lift locks on the C & O canal) and the private antique car and truck collection of Donald Bowman.
Arnold and Lois Landvoigt who went all out and dressed in period authentic clothing. They are pictured in front of their 1941 Pontiac Coupe (J. Haynes). Arnold is President of the Early Times Chapter of the Pontiac Oakland Club International.


The Orphan Car Tour has extended beyond the local crowd as witnessed by Tom Mancino and Gary Masie who drove all the way from Clifton, NJ in Mancino's 1981 DeLorean DMC -12 (V. Lupo/Direction One).


The afternoon also contained the traditional "observation contest": a series of questions, woven into the printed direction sheets, testing the ability of drivers and passengers to discover certain objects located along the route. Answer sheets were turned in at the end of the drive and awards given later in the day for those with the most number of correct answers. Another "Orphan" tradition: each driver received a photo of his or her car in front of the Bowman home, framed in a keepsake folder.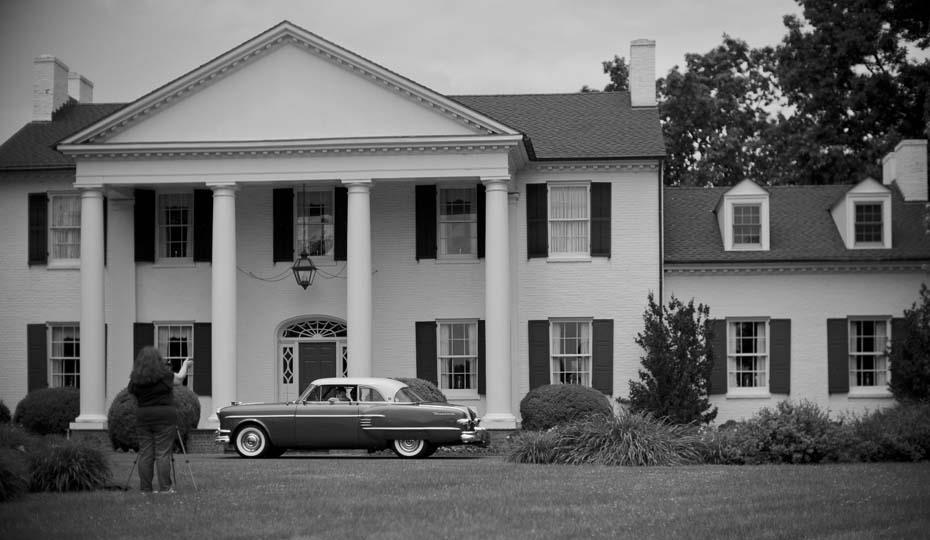 Kathy Jewells as she takes a keepsake photo of one of the cars on the tour in front of car collector's home Donald Bowman (V. Lupo/Direction One).

Cars began returning to the park at about 4:00 PM, and at 5:15 a buffet style meal was served for 85 of the Tour participants at the park's Community Center.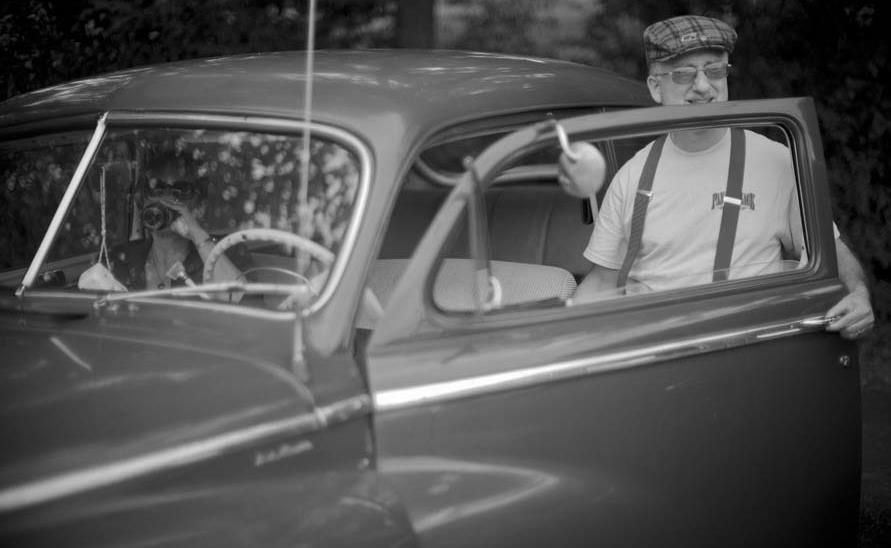 Bob and Kathy Baer on their way to the buffet getting out of their 1948 DeSoto Deluxe 2-door sedan (V.Lupo/Direction One).


Afterwards, door prizes were given out; the grand prize was a framed, early-1900's advertisement for REO trucks, donated by "Jewells" (as he is known by his many friends), a Williamsport merchant who was behind this year's tour. Then everyone was treated to a PowerPoint presentation of photos taken along the tour route, revealing the answers to the quiz questions. Finally, awards were presented for winners of that quiz.

This year a first, second and third place winner was chosen for each of the two route loops. First place for "Route A" was taken by John, Joe and Judy Boksz; second place: Phyllis and Melissa Cherry; third place, Harley and Carol Smith. For "Route B": first place, Jim and Karen Showers; second place: Steve and Mary Walter; third place: Earle Miller and John Cinelli. Honorable Mentions went to Bernard and Cathy Schweigman, Rick and Cindy Trawick, Kevin and Cheryl Shenberger, John and Lynn Horn, and Bob and Kathy Baer.

The Oldest Car Award was shared by Phil Mills, with a 1927 Packard roadster, and Hans Stamberg with a 1927 Hupmobile sedan. The Long-distance Award went to Tom Mancino for driving his 1981 DeLorean 230 miles to the Tour from Clifton, N.J. (John Minkema brought his '52 Kaiser Virginian 284 miles -- but on a trailer!) Fortunately, no cars experienced serious malfunctions on the tour; Susan Johnson received the Hard-Luck Award due to some minor rough-running of her Avanti; a loose vacuum hose proved to be the culprit.

The antique "orphan" makes driven by participants included eleven AMC products (AMX, Javelin, Pacer and Jeep), eight Packards, seven Studebakers, six Pontiacs, five Corvairs, three DeSotos, three Plymouths, two Hudsons, two Thunderbirds, two Checkers, two Mercurys, one Edsel, one Hupmobile, one Ford Falcon, one Kaiser, one Frazer, one Oldsmobile, one DeLorean and a Dodge Dart. (A 2003 Nissan Maxima and a 2008 Pontiac convertible snuck in; the family "orphans" weren't running that day!)

Tour personnel this year included Jewells (who suggested the route and coordinated arrangements with the town), his wife Kathy Jewell (who took the keepsake photos), William and Susan Johnson (Registration), Tom Kenney (PowerPoint presentation), Harley Smith (Treasurer), and Jon Battle (Publicity). Tour participants Lynn Horn, Stephen Walter and Ed Wenger assisted.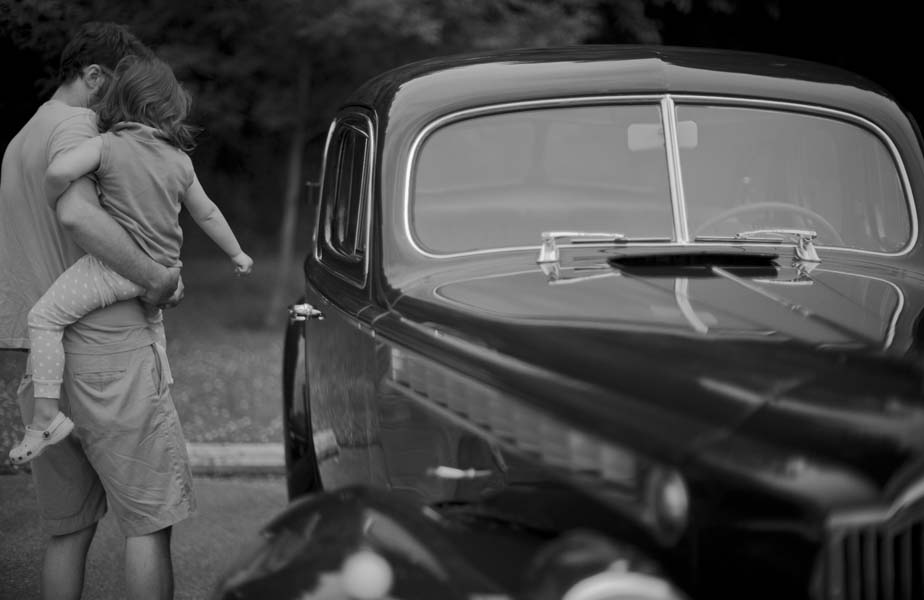 The Orphan Car Tour is run each year to encourage the driving enjoyment of antique "orphan" vehicles. A father teaching his daughter the lore of old orphaned cars - in this instance a Packard (V. Lupo/Direction One). "Orphans" are defined by the Tour as cars or trucks which were built by companies or company divisions which no longer produce vehicles. The Tour is sponsored by six car clubs in the greater Baltimore-Washington area: Mid-Atlantic Packards, the Potomac Chapter of the Studebaker Drivers Club, the Chesapeake Bay Chapter of the Hudson-Essex-Terraplane Club, the Potomac Ramblers Chapter of the AMC Rambler Club, the Keystone Region Chapter of the Studebaker Drivers Club, and the DeSoto Owners Club of Maryland from.

(Article by Jon Battle)

Photo Credits; Community Center Line-Up, 1941 Pontiac Coupe, and Pre-Tour 1927 Packard Roadster; courtesy of, Ms. Jenifer Hayes Pre-Tour Photos at Byron Memorial Park; courtesy of Mr. Peter Pandolfi 1951 Studebaker Champion; courtesy of Ms. Kathy Jewell Keepsake Photo, 1981 DeLorean, Father Daughter, and 1948 DeSoto; courtesy of Mr. Vince Lupo / Direction One, Inc.