Fifty-five cars covered a 60-mile route through scenic portions of Maryland's Baltimore and Harford Counties on June 7, 2014 as the 25th Orphan Car Tour hit the road.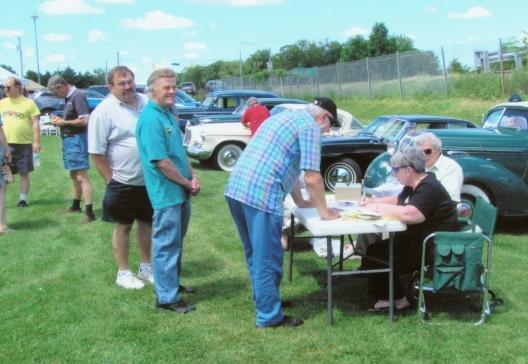 This year's tour was given the title "The Harford Rural Ramble: Hayfields to Havre de Grace." The cars - all but a two of them "orphans" (discontinued-make vehicles) 25 years old or older - embarked onto the tour at the Maryland Line Volunteer Fire Company north of Baltimore Md., shortly after noon on Saturday. Each driver was given printed directions, and each car was released with ample headway ahead and behind it.

The meandering route took the vehicles over scenic, rural back roads, through various state and county parks, to the day's destination: American Legion Post 47 in Havre de Grace. There, at 5:15 P.M., 72 participants sat down to a pit barbecue served by the Legion in its open pavilion on the shore of the Susquehanna River near Chesapeake Bay.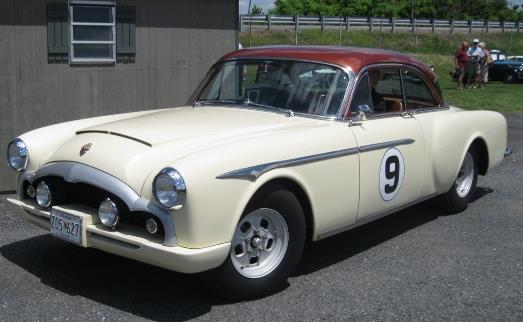 Blue skies prevailed, with temperatures ranging from 75 to 80 degrees. The route passed a number of historic and natural attractions at which participants could pause at their option: Eden Mill and Nature Center, Rocks State Park, the Conowingo Dam Visitor's Center, and Susquehanna State Park, which features the Rock Run Grist Mill, Carter-Archer House, and the Steppingstone Farm Museum.




The tour passed without incident, except for one car's running out of gas and the loss of another car's hubcap in a field. After dinner, various awards were given to participants who had distinguished themselves during the day. Oldest Car Award went to Gene Sauter of Ellicott City, for his 1937 Wolseley (a British make). Long Distance Award went to Jere and Carol Avenson, who drove their 1954 Packard a total of 285 miles to the tour from Chesapeake, Virginia. Runner-up was Tom Mancino who drove his 1981 DeLorean 192 miles from Clifton, N.J. Hard Luck Award went to Thomas Johnson of Chevy Chase, Md. for his temporary lack of fuel.

As in past years, the printed driving directions had been sprinkled with a number of tricky questions about sights glimpsed along the route, designed to test participants' observational skills. Those with the highest number of correct answers placed highest in the competition. First place was won by Bob and Phyllis Godwin from Jarrettsville, Md. and their passengers Aden and Pam Harvey. Second place went to Phyllis and John Cherry of Catonsville, Md. Third place was taken by Bob and Kathy Baer of College Park, Md. Honorable Mention went to Buster Zimmerman of Cascade, Md., and his passenger Melissa Cherry.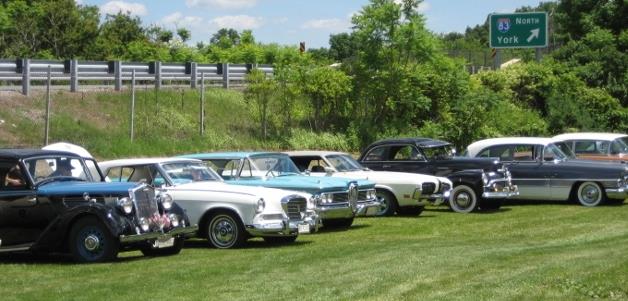 Twenty "orphan" nameplates were represented in this year's Orphan Tour: Studebaker (including Hawk and Avanti), 13 cars; Packard, 8; DeSoto, 6; AMC (Marlin, AMX, Hornet, Metropolitan), 6; Corvair, 4; Pontiac, 3; Hudson (including Jet), 3, Oldsmobile, 2. Marques represented by only one car each: Austin Healey, Checker, DeLorean, Edsel, Imperial, Mercury, Morris Minor, Nash, Plymouth, Triumph and Wolseley. Two "modern cars" were driven by drivers whose "orphans" weren't in shape to drive the tour. (Three "staff cars", all of them "orphans", are included in the count.)

Ross Miller laid out this year's tour route, and devised the contest questions. Assisting at this year's tour were Bill and Susan Johnson, Jon Battle and Tom Kenney. Harley Smith serves as Treasurer and Rich Miller is webmaster.

The tour is run annually in different locations around the greater Washington-Baltimore region. Its purpose is to encourage the driving enjoyment of antique "orphan" cars and trucks: vehicles at least 25 years old which were produced either by now-defunct manufacturers or by the discontinued divisions of still-existing companies. It is sponsored by Mid-Atlantic Packards (a region of the Packard Club), The Keystone Region Chapter of the Studebaker Driver s Club (SDC), the Potomac Chapter of the SDC, Potomac Ramblers chapter of AMC Rambler Club, and the Chesapeake Bay Chapter of the Hudson-Essex-Terraplane Club