Despite a possible threat of rain, the 27th annual Orphan Car Tour took place under partly-sunny skies on Saturday, June 4, 2016 in the vicinity of Annapolis, Maryland. Shortly before noon on that day 28 cars ranging in vintage from 1941 to 1981 (with one late-model S.U.V. sneaking in) left the Annapolis Moose Lodge and embarked – one by one – onto a four-hour afternoon odyssey over the suburban and country roads of Anne Arundel County.

Dubbed the "Arundel Steeple Chase" (for the number of churches encountered along the tour route), the event began at 10:00 AM at the Lodge with an "Orphan Car Showcase", an informal car display of those vehicles scheduled to take the tour. Then, starting about 11:30, cars began departing onto the tour route, each driver following printed directions and traveling at his or her own pace.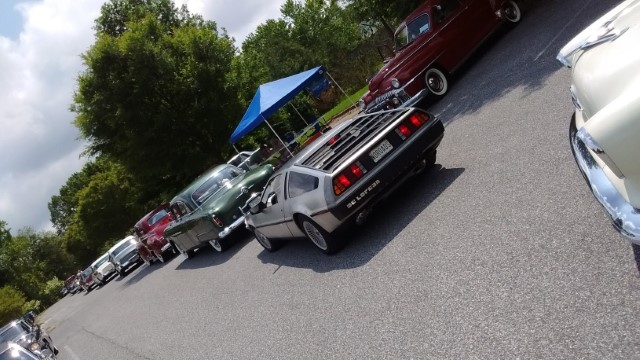 Interspersed amongst the drivers' printed directions were 50 quiz questions, designed to test how closely the participants were paying attention to their surroundings along the way. Awards were presented at the end of the tour to those answering the most questions correctly.

The 39-mile route included five stops at places of interest. First off was the vehicle collection of Wayne Gerst. Housed in several buildings, the display of more than 40 cars is supplemented by an eclectic array of objects including old toys, auto memorabilia, a vintage coke machine and a large mural depicting a gas station that Gerst once owned. Muscle cars and street rods form the backbone of the collection, but one can also view such specimens as a '64 Chevy Impala that Wayne bought new, a Farmall tractor his father bought new, a Studebaker Avanti, an AMC Hornet and a Pontiac GTO convertible.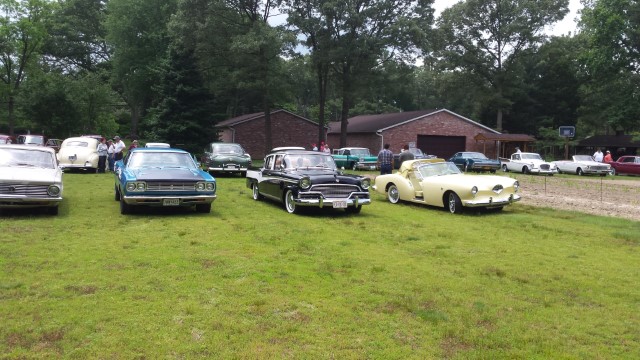 A few miles down the line tour participants toured the car collection of Murray Cole, which included several Packards (including a beautiful '55 Caribbean convertible), an '85 Cadillac convertible, and two fire trucks. A neighbor, Willis Terrett, displayed several of his collector cars there as well.

The next stop was the Anne Arundel County Free School, dating to the early 1700's. Further along the road was Homestead Gardens, a large and unique garden center, contained a small zoo of both rare and exotic animals (chicken, goats and llamas among them) as well as numerous shopping possibilities. Finally, tour-goers visited Historic London Town and Gardens, a restoration of a town dating to the 1600's on the banks of the South River. Several restored buildings are open to the public, and a modern visitors center offers a historical perspective on the town.

The tour ended back at the Moose Lodge, where a buffet dinner was served to participants. Afterwards, awards were given for various honors earned during the day. To John Czajewski and his navigator Vivian Tribett, driving a 1973 AMC Javelin AMX, went the "Master Detective Award for Recognizing the Most Clues" (the observational contest from the direction sheets). The "Commendable Detective Award for Keen Recognition of Clues" went to Mel and Lee Clow, who drove their 1954 Packard convertible. The "Marathon Award for Greatest Distance Driven" went to John Black, who drove his 1950 Nash a distance of 120.8 miles to the Orphan Tour. To Gary and Janice Masie went the "Marathon Award for Greatest Distance Traveled"; the Masies drove 211.7 miles to the Tour (from New Jersey), but did it in a late model "Brand X" because their DeLorean was down for repairs. The "Methuselah Award for the Oldest Car On Tour" went to Tom Cox, who drove a 1941 Pontiac. Finally, the "Why Me?" hard-luck award went to Derrin Ruschell, whose 1956 Oldsmobile lost its brakes on a hill. (The misfortune had a happy ending, though, as Mr. Ruschell was able to stop the car without mishap.)

"Orphan" nameplates represented at this year's event included (with quantities shown in parentheses): Studebaker (5 cars); Plymouth (4); Packard, American Motors and Pontiac (3 each); Oldsmobile and Corvair (2 each); Continental, DeSoto, DeLorean, Hudson, Kaiser and Nash (1 each).

This year's Tour Master was John Boksz, who devised the route with the help of his brother Joe. Both are members of the Potomac Ramblers, a Chapter of both the American Motors Owners Association and of the AMC Rambler Club, which is one of the Orphan Car Tour's six sponsoring groups