1949 DeSoto Custom Sedan
By Bill Wurzell
DeSoto Owners Club of Maryland
This story was originally written for and appeared in DeSoto magazine

 This is a story about a certain 1949 DeSoto Custom sedan that many people came together to save from a fate worse than death or the crusher!

 Our story begins back in 2014 at a meeting of the DeSoto Owners Club of Maryland (DOCM). At a club meeting in 2014, DeSoto Diary Editor, Bob Baer passed around a photo of a 1949 DeSoto Custom Sedan that had been stored in a home garage for 43 years! The photo was sent to Bob by a very sweet lady who was a widow and resided in McLean, Virginia. McLean is a very affluent suburb of Washington, DC. This lady's name is 'Barbara.' When she sent the photo to Bob Baer she also sent along a message that she wanted to sell her home and move into a condo type residence, so DeSoto had to go. Barbara basically told Bob that she would be willing to give the car to the club with an assurance that it wouldn't be customized or crushed.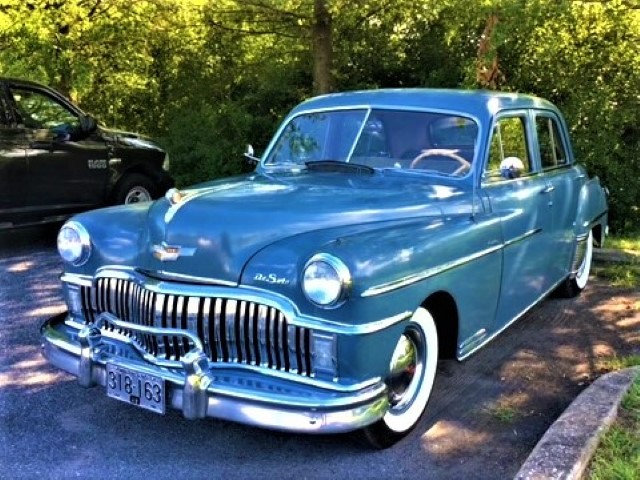 The club members didn't feel that they had the resources or a place to garage the car. A clarion call went out to members of other clubs and Willis Terrett who is a member of DOCM and two other prominent car clubs in the area expressed interest in the car. In the past, Willis restored numerous cars including a 1955 DeSoto Sportsman hardtop and he completed the mechanical restoration on his 1962 Studebaker 'Champ' pickup truck. Everyone's interest peaked. About two weeks after Barbara contacted Bob Baer, it was decided that we would mount an excursion to Barbara's home to check out the DeSoto.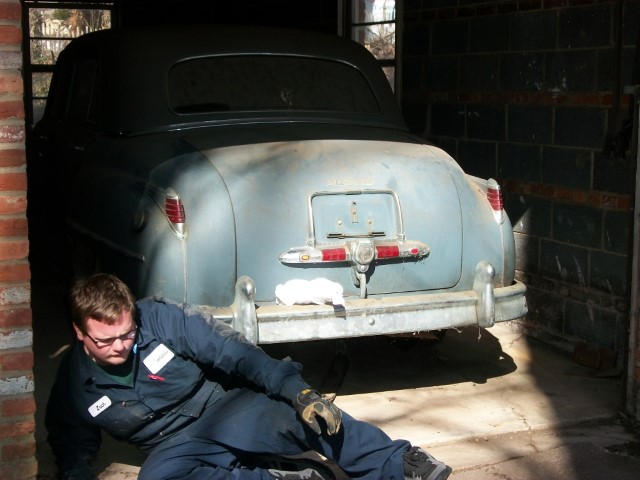 President of DOCM at the time, Jim Turner along with Bob Bare and yours truly, drove to McLean to visit Barbara and the '49 DeSoto. Barbara was very cordial and gave us free reign in the two-car garage where the car was stored. It was a substantial garage with a concrete floor and a couple windows.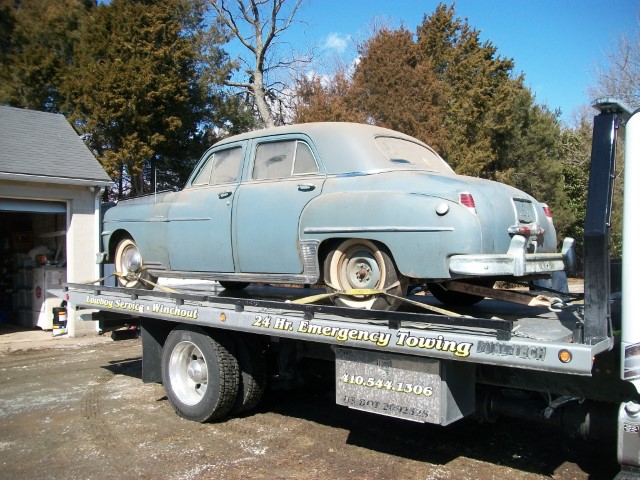 Our goal was to see if we could get the engine to turn, a valiant effort was made, but we lacked a large enough socket to fit the crank bolt. However, Bob and Jim did remove and inspect the spark plugs. The general condition of the car wasn't too bad. We only found signs of rodent activity in the engine bay, none in the interior of the car which was in amazing condition, nearly perfect. The car was coated with 40 plus years of dust and grime; the paint and bright work were very dull as well, but looked as though they would respond to some TLC. Fast forward a couple weeks and Jim Turner along with member Willis Terrett and myself paid a return visit to Barbara's home. Around her kitchen table and enjoying her homemade Toll House cookies and coffee, we discussed the car.
 Barbara gave us the complete history of the car which was purchased by her in-laws, while on vacation in 1949 in Pennsylvania. They traded in a 1947 Pontiac coupe. Her in-laws were residents of Kansas. The DeSoto still had Kansas tags front and rear. Barbara had lots of other paperwork including the title to the car, which her husband had transferred to his name sometime in the late 1960s or early 1970s. At some point Barbara's husband planned on restoring the car after it developed a problem. He pulled it into the garage, unfortunately, he became ill and did nothing more to the car, and he succumbed to his illness. The DeSoto sat in the garage from the early 1970s until 2014.
 During the conversation at Barbara's home, she offered the car to Willis on the condition he would not modify it or send it to the crusher. He readily agreed as he had no intention of doing either. A couple days later Willis hired a towing company to pull the car from the garage on a cool, bright fall day in 2014. It was towed on a rollback to Millersville, Maryland to DeSoto club member Murray Cole's spacious property. Willis and Murray are old friends and work on each other's vehicles, although Murray is a big Packard and firetruck fan. On Murray's property sits a private four bay garage with two lifts, the garage is heated and air conditioned!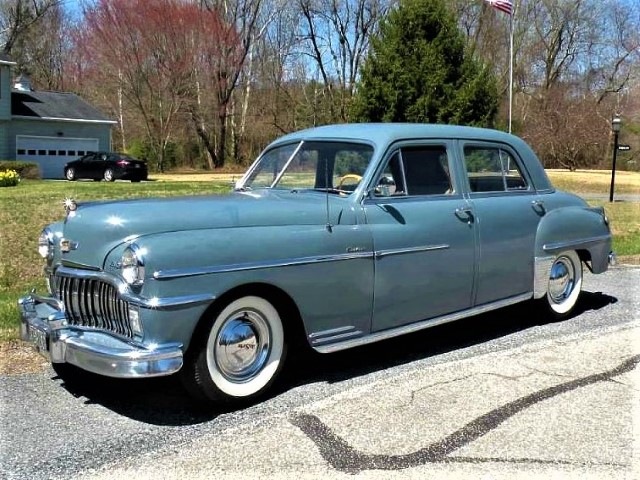 With the automobile experience Willis and Murray have it wasn't going to take long to get this 1949 DeSoto on the road. But, it did take three whole weeks to get the motor to turn. They could write a book on what it took to accomplish this task. Completely unfamiliar with the 'Tip-Toe-Shift', M6 transmission that was in the car, Willis learned quickly how it worked. Bob Baer was a big help because his 1948 DeSoto had the same transmission. Basically, there are FOUR forward speeds; two ranges in: power range and two in driving range. On the dashboard, it says in large script: 'FLUID DRIVE.' Actually, the M6 transmission is a combination of a fluid coupling and a torque converter. It is not a fully automatic transmission, such as PowerFlite. It has a clutch that is used to change gear ranges. Willis is a retired electrical engineer and figured out how the electro-hydraulic transmission worked. The DeSoto now shifts flawlessly. Because of the transmission work on the '49 DeSoto, Willis and Bob were able to correct a shifting issue in Bob's '48 Desoto.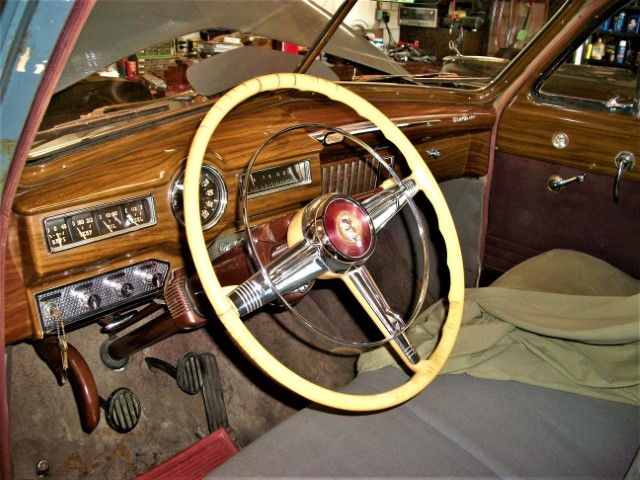 Over the ensuing months great progress was made, they got the engine running smoothly and the transmission working properly. Willis miraculously brought the paint and bright work back to a gorgeous shine. Four nearly new wide, white sidewall tires were installed and the car was registered in Maryland. Not much needed to be done to the interior other than vacuuming and light cleaning, even the headliner was completely intact.
 Murray Cole, the Packard and firetruck fan, came to love the DeSoto as it reminded him of his late father's 1949 Plymouth sedan that looked very similar to the DeSoto. For all the help Murray provided to Willis in the restoration of the car, Willis turned the car over to Murray. Of course Willis can drive the car anytime he wants. In 2019 on a lovely early fall Saturday, Willis, Murray, Jim Turner and myself drove the car to a restaurant in Edgewater, Maryland about an hour away from Millersville for lunch. There was a car show on the parking lot of mostly hot rods and heavily molested cars and trucks. After a great lunch, when we exited the restaurant there was a mob scene surrounding the all original 1949 DeSoto Custom sedan. The crowd peppered us with questions about the car and many folks begged for a chance to be photographed behind the steering wheel!
 The '49 DeSoto is still living at Murray's garage and is driven on a regular basis, but only on nice days. Murray drove the car June 15, 2022 up to Altoona, Pa., a round trip of nearly 400 miles, for the 36th annual convention of the National DeSoto Club. The car took 2nd place in the 1949-1954 class.
***********
Have an "Orphan Car", would you like to see it featured here?
Provide a brief write up on your car and why it is special to you and include few photographs.
Send to orphancartour@gmail.com